Good Sunday morning, all! Well, today is Super Bowl Sunday. Are you crafting? I am going to spend some time in my craft room working on some upcoming design team projects and my own scrapbooking. Big goals for this afternoon and evening. :)
Just sharing a reminder of the blog hop that starts tomorrow that I am going to be participating in. It is all projects inspired by Beatles songs and we have a fantastic line up of talented ladies. You won't want to miss it.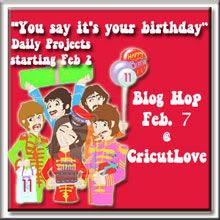 And I just couldn't post without sharing a couple of "Thank You" gift card holder cards I made the other day. The tutorial for making them I found
here at Made by Momo's blog
. One is for a friend of mine and uses no Cricut cuts at all, just inking, twine and flowers from my stash. The other one is for my Dad to give to his neighbour that has been kind enough to shovel his snow this winter as my Dad has not been able to himself for the first time ever. The snow angel girl is from Winter Frolic. All other supplies are from my stash. Each of these cards needed to hold a gift card and they were perfect for that.
Thanks for stopping by. Enjoy your day no matter how you spend it.
{{{{{HUGS}}}}}, Heather